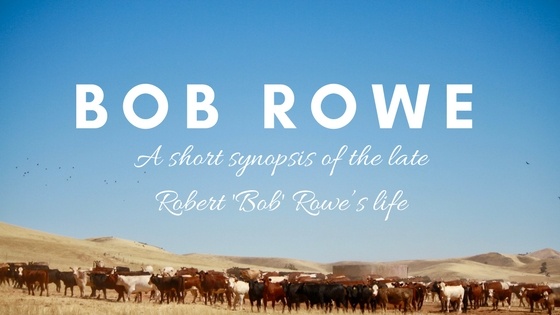 Together the late Robert 'Bob' Rowe and his son Simon established what is now known as Princess Royal Station. Bob is a South Australian meat and livestock icon and was at the forefront of the South Australian beef industry for many decades, treading where others feared for many years.
Bob had an ambitious approach to taking on life's opportunities and holding on till he saw them through. He fought for his success and believed that anything was possible.
His success was not an easy journey by any means, there were many lows but his determination and hunger for success saw these periods through.
Along his life's journey, he inspired many and managed to achieve much more than he had imagined in his younger years.
We have put together a short synopsis of Bob Rowe's life, from his humble beginnings to the heights of his success. Much of the information in this article was drawn from Bob Rowe's biography 'Bob Rowe: The Great Cattle Trader' written by Nigel Austin.
Beginnings
Born in 1936 in Adelaide, Bob and his sister Maxine grew up in the Eastern suburbs of Adelaide. He was very fond of the land and animals from an early age. Bob and his sister Maxine would visit his family's farm on their school holidays and he quickly developed a fondness for horses. He carried this love for horses and animals for the rest of his life, going on to become the master of the hounds at the Adelaide Hunt Club later in life.
When he was still in primary school Bob started working with his friend John Schofield at John's father, Stanley Schofield's, milk factory during their school holidays.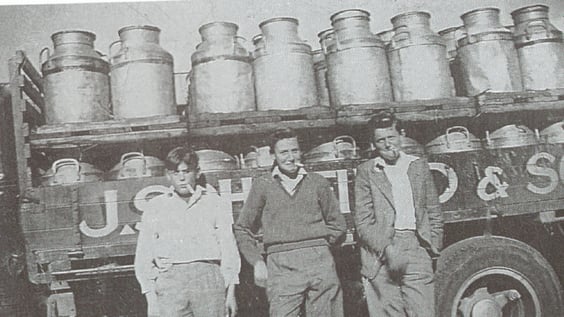 From Left: John Schofield, Don Waldie and Robert Rowe standing infront of a Schofield milk truck. (Austin, 2014)
Bob was sent to Urrbrae Agricultural School after primary school because of his passion for the land. But by secondary school, it was clear that Bob wasn't fond of sitting in the classroom. What he wanted was to make his way in life. He left school after passing just one subject at intermediate level, although successful in other areas. (Austin, 2014).
He was keen to get started in life, his ambition, uncanny memory skills and gift for trading would be the hallmark to his successes in life.
Bob aspired at this age to own his own farm, but it was to be one aspiration that he didn't fulfill until later in life. Simon Rowe said that "his father never achieved his dream of being a farmer. He went far beyond that." (Austin, 2014)
From the beginning, Bob carried with him a positive approach to life, not only in his business affairs but also in personal life. Enjoying life's pleasures, company of friends and particularly his family.
Business Adventures
There is no doubting it, Bob was a trader. He quickly discovered that his hunger for success would drive him far beyond being a farmer. In the early 1950's, he entered the industry as a trainee buyer and farm hand with SA Bacon, where he attended his first livestock sale at Gepps Cross at age 17. Gepps Cross was a hub of activity and later in life he would end up dominating this saleyard, buying up to 62% of the cattle sold there.
Twelve months after his first livestock sale experience, he became a junior buyer with Master Butchers Co-operative. He learnt the art of trading quickly and his entrepreneurial flair grew just as fast.
He spent most of his time out of the office trading any animal, even cars to get out on top (Austin, 2014).
Bob moved further into the industry, forming a business partnership with Alan Turner in his business, Direct Meat (later renamed Holbrook Meat, then Holco Ltd.), after Turner saw potential in Bob at the Gepps Cross saleyards. There was a bumpy road ahead but they came out on top. Bob and Turner even found themselves pulling the wool from Direct Meat's wether's after workers at the Gepps Cross meatworks walked off the job. "Bobs life became devoted to buying and selling, wheeling and dealing" (Austin, 2014).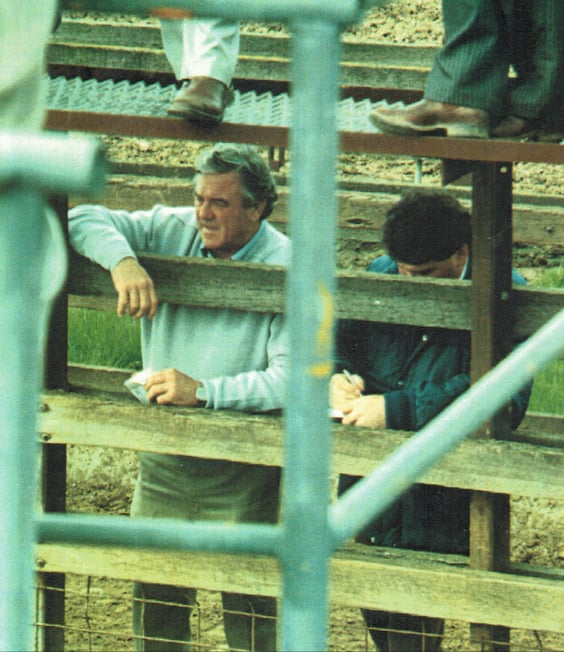 Bob and Simon Rowe at a cattle sale
His excellent memory further advanced his skills and he quickly rose through the ranks of livestock trading. "Rowe excelled at being able to tell the weight of live cattle to between two and five kilograms" (Austin, 2014). By 1960 Direct Meat employed 30 people, but due some very rough times, Turner was painfully forced to sell-out to Metro Meat. Metro Meat kept the business alive while Turner and Rowe worked hard, especially when the market wasn't in their favour.
In 1967 Turner and Rowe started a new business that was to focus solely on trading livestock called Turner & Rowe Pty Ltd (T&R). Turner continued to focus on Holbrook Meat while Bob managed T&R, trading livestock throughout South Australia and the Northern Territory. Bob was willing to work 24 hours a day for the success of his business and by the late 1960's he was a dominant figure in the livestock industry. Bob once said that he would "buy more cattle in an hour than they could sell in a week these days." (Austin, 2014)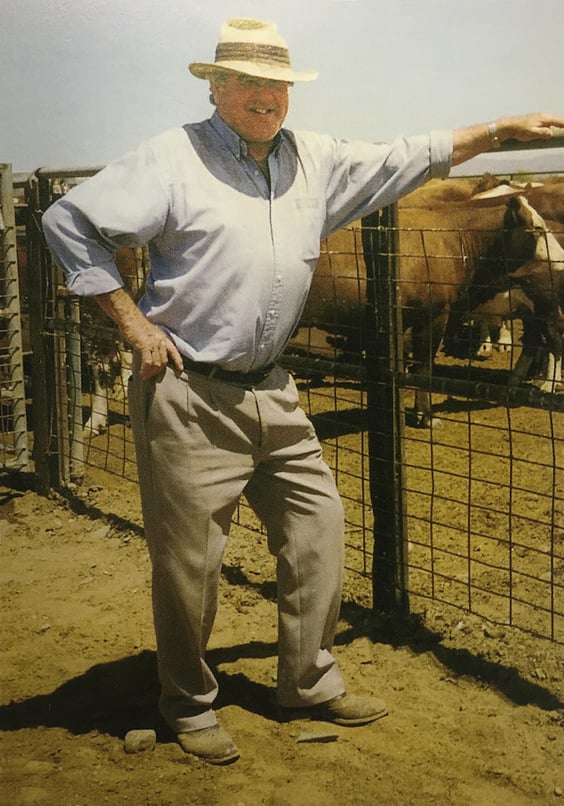 Bob Rowe stayed positive during tough times and focused his energy on celebrating the successful trades. Both T&R and Holbrook Meat found success through Bob's drive and ability to see opportunities that went undetected by others. By the 1970's Bob was fast becoming one of the largest livestock buyers in the country, and in 1973 Bob asked Chris Thomas to jump on board (Austin, 2014).
Simon Rowe had followed in Bob's footsteps and entered the livestock industry, sharing his father's skill, passion and work ethic.
Simon said that he bought his first pen at Mount Gambier when he was just 9 years old and started work as a meat buyer for Holbrook after he left school (Austin, 2014).
T&R continued to expand and grew to include processing and exporting to the US developing a reputation for being able to handle large numbers of cattle and process anything, especially during the National Brucellosis and Tuberculosis Eradication Campaign.
Holbrook went public in 1984 and was renamed Holco Ltd, dominating the retail butcher and catering markets while T&R continued to focus on trading and export. (Austin, 2014) In 1988 CR&S was born, further developing and diversifying. Within 20 years CR&S was rebranded, reusing 'T&R Pastoral'.
TransAustralia Transport was also established during this time caring cattle from feedlots to abattoirs (Austin, 2014). During these years Bob "recognised the potential for the feedlot sector relatively early on and could see it creating demand for store cattle suitable for grain feeding" (Austin, 2014).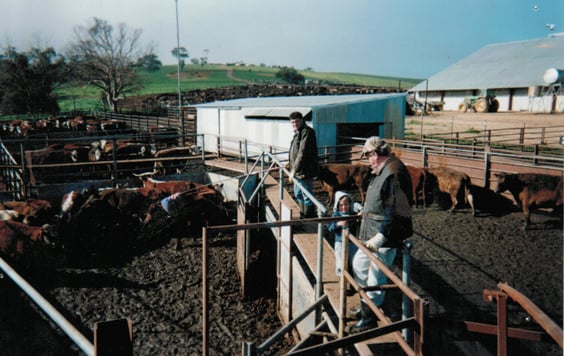 T&R expanded and branched out further as Bob believed that diversification was essential for any business (Austin, 2014). T&R purchased a property in Clare called 'Maunu' and built South Australia's finest feedlot at the time, winning the Australian Lot Feeders Association Environmental Feedlot of the Year in 1998. T&R purchased the Murray Bridge abattoir in 1999. It the first full year of ownership the abattoir processed 130,000 cattle and 1.4 million sheep and lambs (Austin, 2014). In 2001 Bob was awarded the SA Great Award as a validation to his success in the livestock industry.
In 2007 Bob would finally chase his childhood ambition to become a farmer, of sorts.
Bob and Simon's hearts lay firmly in the property and livestock operations that they were building in Burra and in 2008 sold their share of the T&R business to the Thomas's. Bob and Simon went on to accomplish much more through Princess Royal Station, making it what it is today.
Princess Royal Station
Even in the later years of his life, with deteriorating health, his passion for continuing his legacy never failed and it lives on today as his family take the next steps in building on his passion for the rural industry.
"Forever prepared to do the work others are not, Bob Rowe's life has been one of remarkable achievement" (Austin, 2014).
Bob once said that he would make his money and retire at a young age, but that young age was continuously pushed back throughout his life.
His passion and hunger for success spurred him on for his entire life. Bob and Simon refocused their energy into establishing Princess Royal Station to include a large-scale agricultural and livestock trading division, internal freight, high-quality beef feed lot operation, breeding herds and an organic red vineyard and wine label.
Find out how to purchase Bob Rowe's biography 'Bob Rowe: The Great Cattle Trader' written by Nigel Austin.