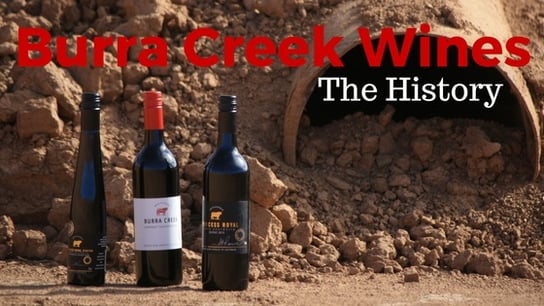 Our vineyard was the brain child of Simon Rowe after an anonymous man said to him that our area around Burra "was as good a country for growing red grapes as he'd seen." So, Simon teamed up with an old friend and winemaker, Andrew Hardy and planted 30 acres of Shiraz and Cabernet vines.
The region is just east of the renowned Clare Valley grape growing region, and to the south is the famed Barossa Valley both home to many internationally famous labels and vineyards.
Our Vineyards Roots
Burra Creek Wines launched two wines in June/ July 2004, a Shiraz Cabernet and a Sparkling Shiraz. The first vintage was harvested in 2006 which was available for sale in September 2007.
We applied to become certified organic through NASAA and after becoming certified organic in 2007 we have been producing organic wine ever since.
"I wanted to get back some of those full-flavoured wines that the old cattlemen used to drink in the 1940s and 1950s." – Simon Rowe
The flavours of our wines reflect the country, and are both elegant and strong.
Simon also once said that there's an investors advantage to wine making, he said; "We once kept racehorses. When they started to lose money we couldn't very well eat them, but at least with grape growing if it goes wrong we've got something to drink!"
Today, our vineyard produces both Cabernet and Shiraz grapes that are certified organic and are bold and rich in their characteristics'.
South Australia already has an all-star reputation around the world and the reputation for Australian organic wines is ever-increasing and better than ever before.
Currently O'Leary Walker is our winemaker and we now produce both Shiraz and Cabernet Sauvignon as well as a fortified Shiraz, which is especially delicious with yummy Christmas pudding flavours.
"Though we are clearly not a commercial enterprise our strongest attribute is that we are producing small quantities of the best wine that we can make" – Simon Rowe
Available for sale are:
The 2012 Burra Creek Wines Shiraz:
The 2012 Burra Creek Shiraz is a beautiful, bright rich red with purple hues. The Burra Creek Shiraz has flavours of dark spices, cherry oak and hints of liquorice. The palate is soft and elegant with chalky tannins and is balanced with a natural acidity. This Shiraz has an elegant style with a balanced natural acid and elegant length of flavour. It is a wine with a great potential to age well.
The 2012 Burra Creek Wines Cabernet Sauvignon:
The 2012 Burra Creek Cabernet Sauvignon is a rich, red colour with vibrant hues. The Burra Creek Cabernet Sauvignon has a lifted bramble with a subtleness of forest fruits, minty hints, and floral undertones.
The 2006 Princess Royal Late Harvest Shiraz:
A small portion of Shiraz was left to hang in the vineyard to gain extra ripeness before being hand-picked. The fermentation was stopped on skins using wonderful eight-year barrel aged brandy spirit. The resulting wine displays lifted ripe plums and prunes combined with hints of mocha and leather. Aged in old French oak baroque's, the wine has developed rich and luscious mouth filling "Christmas pudding" characters, with the complexity of textured Clare tannins and persistent flavours.
The 2012 Princess Royal Shiraz:
The 2012 Princess Royal Station Shiraz is a deep red colour with hints of purple. The Shiraz has bright lifted forest fruits, liquorice and cherry oak subtleties. It's also has touches of sweet, elegant dark fruits, olive and savory oak which results in a Shiraz that is pretty, elegant and that will reward with careful cellaring.
The 2012 Princess Royal Cabernet Sauvignon:
The 2012 Princess Royal Station Cabernet Sauvignon is a deep red brick colour. It is beautiful and rich and has hints of mulberry as well as soft touches of violets. With a soft, juicy palate, rounded tannins and cherry oak flavours.
To order any of our wines, please don't hesitate to get in touch with our Sales Manager Lisa Rowe.