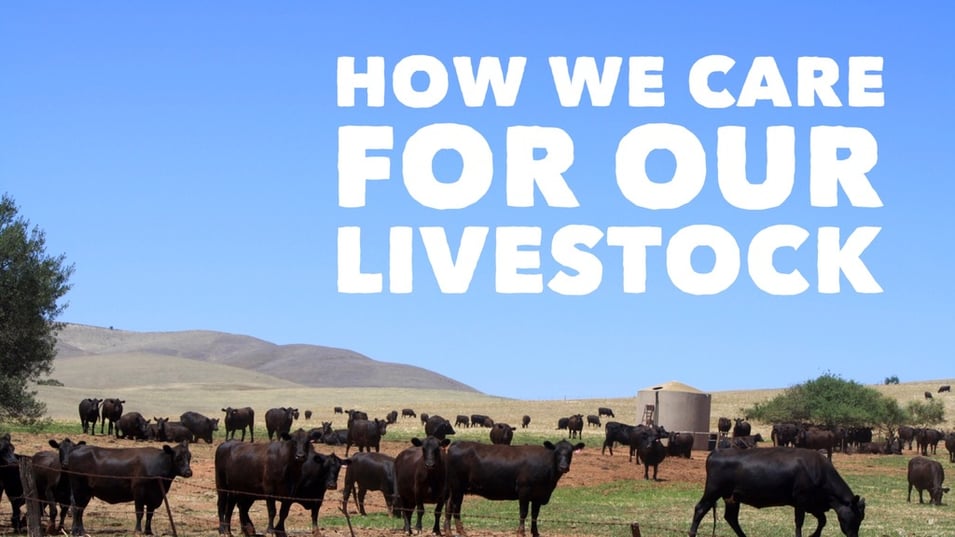 We know from experience that there is a lot of confusion around feedlots and the Australian red meat industries. Many people have questions about what happens in a feedlot and how the livestock are treated. Rest assured, the Australian livestock and feedlot industries are world leaders in animal welfare and livestock production.
After three generations in the cattle business, we pride ourselves on the quality of our care, our livestock, and the products that we produce. Princess Royal strives to meet and exceed industry standards.
Let's kick things off with some nitty-gritty information about our feedlot and how we care for our livestock.

The Livestock of Princess Royal Station
On our properties, we raise and tend to a variety of livestock, including:
Angus cattle,

European breeds and cross breeds of cattle e.g. Hereford,

Charolais, and Murray Grey and Shorthorn,

Droughtmaster and Droughtmaster Cross cattle,

Sheep
The wellbeing and health of our livestock is really important to us – after all, where would we be without them? The Rowe family has spent the last three generations working with cattle and has a sterling reputation in the business. We pride ourselves on providing the highest standard of care for our livestock and we are involved in every aspect of the operation.
Princess Royal Station breeds, feeds, transports and exports cattle and sheep. We take a science-based approach to breeding the healthiest and most productive livestock we can, and are constantly searching for better bloodlines. In addition to our feedlot, we have EU accredited breeding herds at Wertaloona, Wooltana and Princess Royal Station.
Standard of Care
The Australian livestock and feedlotting industries are governed by strict animal welfare regulations. These laws and practices ensure that every animal is cared for and its life is as stress and disease-free as we can make it. At Princess Royal, we are dedicated to meeting and exceeding these standards as part of our mission to produce the highest quality product on the market. Independent audits by third parties occur regularly in every aspect, verifying that our livestock' welfare is our first priority.
Princess Royal not only aims to exceed the National Feedlot Accreditation Scheme (NFAS), but we also utilise the "Australian Model Code of Practice for the Welfare of Animals" and "The National Guidelines for Beef Cattle Feedlots in Australia". This ensures that all of the businesses operations in managing and handling livestock abide by the guidelines and regulations set by the industry.
Our feedlot was also designed to reach the highest level of construction and operation under recognised guidelines Environmental Protection Authority, making it a Class 1 facility. Princess Royal works with Meat and Livestock Australia (MLA) to ensure that our feedlots meet and exceed Australian standards for animal welfare. Our feedlots are accredited by both Australian and European standards for quality, health, and care.
Intake and Exit
We source our livestock not only from our own breeding herds, but from around Australia. In order to ensure that our cattle and sheep are kept healthy and happy, we have instituted a number of procedures to minimise stress.
Our intake and exit facilities were designed with this goal in mind, and we also work with MLA to ensure that the livestocks' welfare is taken into consideration at every stage. We follow all recommendations for rest, feed, and water requirements during transit.
During the intake process, the livestock are inspected for health and given any necessary medication. Since livestock might end up at any number of locations, we practice strict disease-isolation techniques for ourselves, our equipment, and the livestock. The livestock are then analysed by breed, age, weight and their likely market destination. We strive always to make this process as efficient as we can so the livestock can return to their normal behaviour as soon as possible.
How We Care for Our Livestock
At Princess Royal Station, we take animal care very seriously. We want our livestock to be healthy and happy. As well as just being good farming practice, their welfare has a massive effect on the quality of the produce.
Every day, we strive to ensure that the needs of our cattle and sheep are met in every way.
Any work involving the care of livestock requires a daily commitment to their welfare. The people at Princess Royal have a genuine interest and respect for the livestock we work with, and we aim to ensure that we handle them in a safe and stress-free manner. We monitor daily for health, environmental conditions, and access to food and water.
For the majority of their lives, our cattle and sheep roam our range of over 100,000 acres, where they graze and breed. We keep a close eye on these free-ranging herds and flocks to ensure they have access to water, are healthy, and that calves and lambs are taken care of. When it's time to move them, they travel via our fit-for-purpose cattle trucks to make the process as quick and easy as possible.
Care in the Feedlot
Princess Royal Stations management team have a lifetime's worth of experience in the industry and have spent years perfecting the design of our feedlot. Our feedlot was created to work with the South Australian climate and with the landscape rather than against it, featuring state-of-the-art drainage systems that keep the land, environment and the livestock in good health. Our facilities have been specifically constructed using innovative technology to create an efficient and low-stress environment for our livestock.
We pay very close attention to detail to provide the very best surroundings for our livestock.
Each pen is designed to minimise any stress the livestock's experience and providing our livestock with top-quality feed is a must. During their time in the feedlot, we feed them grain and silage to help them reach market weight. Cattle have specific nutrition requirements and each stage, monitor their feeds daily and adjust them as necessary.
We also run our own cropping program, which allows us to reduce the amount of feed we need to purchase. These crops are fertilised with the processed feedlot waste, keeping the soil balanced and our dependence on artificial fertilisers low.
A Personal Touch
A big part of our philosophy is keeping a hands-on approach to everything we do here at Princess Royal Station. We live and work amongst our livestock, keeping a watchful eye over them to ensure that they're in the best emotional and physical condition. All our facilities and practices have been designed to this end. We are dedicated to reducing our environmental impact through waste management, renewable energy, and closed systems. After all, Princess Royal is not just a place of work, it's our home.
New technologies are always popping up – but for us, our personal relationship with our livestock is something that's irreplaceable.
We hope that this has opened your eyes a little into how we do things here at Princess Royal Station. But, if you'd like to learn a bit more, check out this page on our environmental practices.