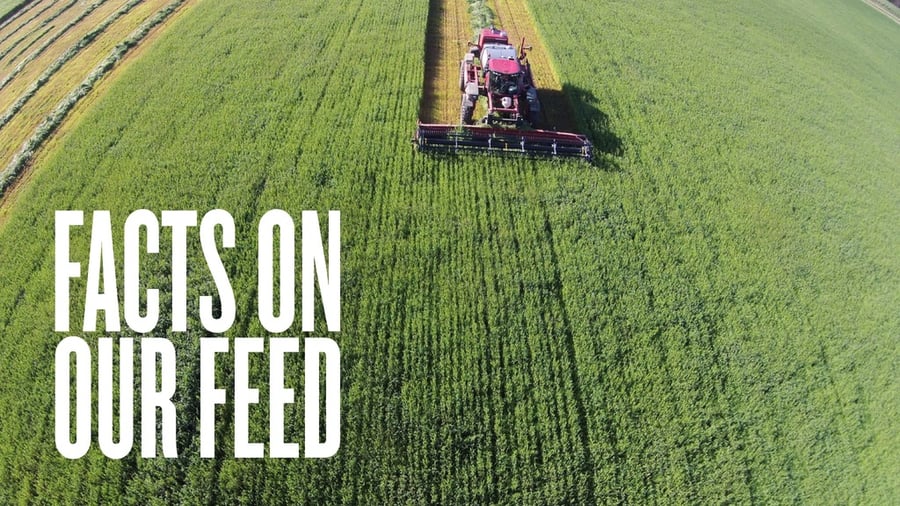 When it comes down to ensuring premium quality beef, we're firm believers that it all starts with the quality of the food.

The cattle and sheep that roam our beautiful South Aussie hectares are nurtured on the finest grade feed, keeping them in perfect health and happiness. So what makes our feed so special?
At Princess Royal Station, we like to keep things in-house. That way, we can make sure that everything's up to standard. Our seeding program is no exception.
We know that feedlots can be a bit of an enigma shrouded in mystery - but we want to break down the walls and give you a look behind the scenes. To kick us off, we thought we'd look into our seeding program, and why we plant our own fields.
Let's Start with Some Facts
Across our station, we plant 27,000 acres of crops for the purpose of feeding our cattle and sheep.
Over those thousands of acres, we plant wheat, barley, canola, peas, and oats.
Each of these crops has wonderfully rich nutritional properties, giving our livestock the essential elements they need to grow and thrive as they wander our rolling hills.
As you might imagine, planting, maintaining and harvesting 27,000 acres of crops is a big job. To help us out and to make the process more efficient, we use special machinery. This includes:
A Flexi-Coil

air seeder and box on our tractors for seeding

A Miller Nitro for cutting hay, silage and spraying

Balers for when haying time comes around
How Do We Care for Our Crops?
The health and well-being of our livestock is at the forefront of our processes at Princess Royal. To ensure that we're giving our animals the best, we make sure that their environment is as pristine as it can be.
Our environmental values are seated at the core of our business. It's how we're able to provide premium quality feed!
On our land, we practice a number of environmental techniques, including:
Water usage and management

Air pollution reduction

Waste management

Ecosystem management

Biodiversity protection
These all help to improve and maintain our land's welfare, so that our crops are uncorrupted and our animals can benefit from the highest quality nutrition possible.
To discover more about this, you can view our environmental policies page here.
Once our crops are seeded, we use a weed control program to make sure the unwanted nasties don't overrun them. Then, during the winter months, we sometimes add Urea to assist with crop growth.
What Happens Next?
Once the crops have reached maturity, we harvest them.
Usually, we plant from March onwards, harvesting in September for silage, then for hay. Our pit silage is a grain oat crop, which is cut while the plant is still in grain. It's put into pits and the air is squashed out of it, keeping the sugar in the plant - our cattle love the sweet flavour!
You can find more information about our silage program here.
After that, it's time for the canola and peas, closely followed by the wheat and barley, which is carted off and stored in on-site silos for easy access and quality control.
The seeding program at Princess Royal Station is specially designed to promote the well-being of our livestock so that we can help give South Aussies a beef product like no other.
Would you like to learn more about what goes on at our feedlot? If so, you can find more information here.