The majority of farming is an industry that is reliant on the changing of the seasons as well as the weather.
Farmers rely on rain and the sunshine at the right time for crops to grow, rain or the wrong conditions at the wrong time can hold up the whole show

.
This season there are many farmers who are
normally
well and
truly
finished, are yet to finish harvest
.
The extreme weather conditions that South Australia has experienced this summer are out of the ordinary for this time of year
.
This means that for many cereal crop producers, it has

impacted

their harvest.
So, all that can
be done
is to sit back and wait it out.
Due to the favourable seasonal conditions through spring in many of the cropping regions, ABARES estimated a bumper harvest for 2016
.
In South Australia, as at January 15th, 2017, Viterra reported receivables at 8.6 million tonnes
. This is a record high result (ABARES, Jan 2017).
However
,
in terms of
yield and quality, it could have been much better.
So, what exactly has happened to impact the grain quality, forcing premium crops to

be sold

at lower grades

?
Frost occurs on clear nights in early spring when the air temperature drops below 2°C. Damage to crops from frost may occur at any stage of the crop plant development
. However, is most damaging at and around flowering (Spring/Summer?).
Damage to the plant occurs when ice forms inside the plant tissue, the expanding ice bursts the plant's membranes, which results in mechanical damage and dehydration injury
. Frost damage can reduce both grain yield and quality.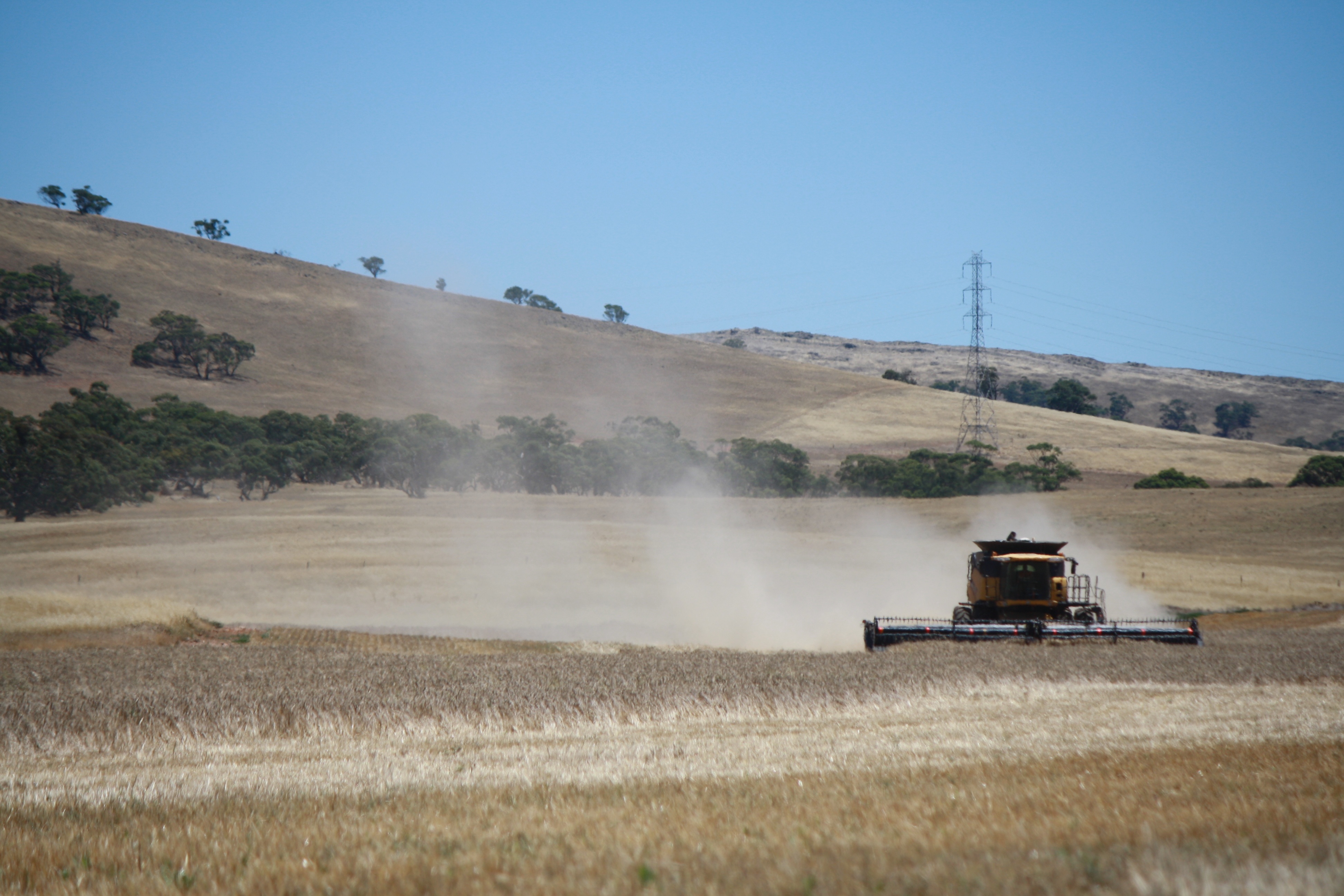 What do you do with frost damage crops?
Depending on severity, with frost damaged crops a producer may choose to cut the crop for hay. Or they may choose to not reap the crop at all and leave it for livestock feed. Or they may choose to reap the crop, selling for less than it was
originally
worth, at a lesser yield and quality.
Rain, Flooding, Hail and Wind:
Heavy Rain, as we have seen this year in South Australia, can sometimes result in flooding, hail and strong winds
.
Just
one of these weather conditions, or a combination of them, will give any farmer a headache at harvest time
.
When crops are
fully
grown, ripe, they are not going to
benefit from
any
additional
rain, rather they face yield and quality damage
. In many instances, though, a crop or the majority of the crop will
significantly
recover.
Heavy rain and flooding can create waterlogged soils, delaying harvest,

potentially

flattening crops, and it can also increase the risk of some diseases in the crops spreading

. Hail can wipe out the crop in its path and strong winds have the potential to flatten crops. But this all may depend on what stage the plant is, the severity of the weather conditions.
For many farmers, the harvest is
nearly
over for 2016 and they are busy selling their crops, but the prices are not desirable
.
Australia's grain prices rely
heavily
on international market prices and trends because the majority of our grain
is exported
. As with many markets, the price the farmers are able to get for their persistent with this year's harvest.
Luckily, for many farmers, their crops have had a bumper season. But due to the unforeseen weather conditions, a lot of the crops that were first expected to have a great season, are have
been downgraded
.