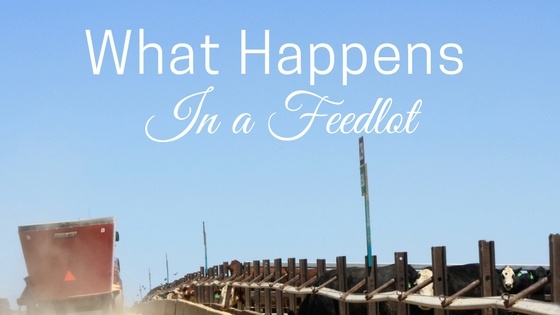 There are many misconceptions and misunderstandings surrounding the feedlot industry and beef production. So, we thought that we would shed some light on the industry and reveal what actually happens in a feedlot.
Princess Royal Station runs a beef cattle feedlot called Princess Royal Feedlot in South Australia's Mid North region
.
Generally, in Australia, feedlots are
strategically
located in regional agricultural areas where they have access to grain, livestock, transport and processors
. A lot of feedlot's
purchase
fodder from surrounding producers as well as producing their own (Deloitte Access Economics,
2015)
According to the Australian Lot Feeders Association, there are about 450 accredited feedlots in Australia, located
mainly
in Queensland
.
The cattle feedlot industry produces around 28,500 jobs and has a value production of approximately $2.5 billion, according to ALFA
.
Where is the livestock sourced from?
Livestock can
be sourced
through several different channels.
Livestock buyers will
purchase
livestock through agents,
directly
off farm, they may breed their own or
purchase
cattle from public saleyards
.
They will look for different characteristics in the livestock depending on the market the feedlot is supplying
. Beef feedlot buyers may look for one or more of the following;
HGP free,

Russian and Saudi Eligible,
Different weight classes (different feedlot entry weights)
Specific breeds (e.g. Wagyu, tropical breeds, Angus)
Gender,
Age,
EU or Non-EU
What happens when the cattle arrive at the feedlot?
The livestock are 'inducted' by trained livestock handlers according to the specific feedlot's acceptance criteria and procedures

.
At induction the health of each animal
is assessed
, they
are given
vaccinations to prevent common diseases, their National Livestock Identification System electronic tags
are scanned
, and they are all provided with identification tags
.
Depending on their weight and the entry weigh of the feedlot, they may either go straight to feed or they will go out to a paddock until they reach entry weight
.
When they are ready to enter the feedlot pens, cattle are 'drafted' according to processors and the feedlot's procedures and requirements
.
What happens while the livestock are in the feedlot?
Once cattle have reached the feedlot system they are ready to start their 'days'.
A common misconception about feedlots is that livestock spend their whole life in the pens
. This is not true, feedlots
are designed
to "finish" livestock.
This means that livestock live the majority of their lives out in paddocks, grazing
freely
. To learn more about the facts on feedlots check out this article here.
There are different accreditation systems for feedlots depending on market
requirement
and of course species
.
These varying accreditation systems have their own auditing and monitoring requirements to ensure that feedlots
correctly
comply with their
procedures
.

In the feedlot, livestock are often held for a specific amount of time, measured by the number of days they are 'on-feed' which will vary depending on their destination market and the customer requirements
.
Cattle
are feed
specifically
formulated rations of fodder, often containing grains such as corn, barley, wheat, hay and silage
.
Feed rations are precise recipes that may vary depending on how many days on feed the livestock have done or the contract requirements for the livestock
.
Many feedlots

employ

an animal nutritionist who specialises in feedlot diets so that their livestock will stay

satisfied

with their feed the entire time that they are in the feedlot

.
Livestock are
carefully
monitored daily by trained livestock handlers who identify ill or injured animals that need to
be treated
and isolated from healthy livestock until they recover
.
Staff who are responsible for feeding the livestock
carefully
monitor
their feed intake and adjust their rations daily to avoid wastage and keep the livestock satisfied
.
Feedlots also
employ
staff who are responsible for cleaning out pens.
Feedlot pens must
be cleaned
and maintained
regularly
to ensure the welfare of livestock
.
What happens when cattle leave the feedlot?
Once livestock have reached the correct weight, have completed their days on feed and are healthy they will
be transported
to a processor
.
Meat processors have strict accreditation systems and processes to ensure that the highest quality and systems
are maintained
.
The health of every animal that enters a processing facility
is checked by
a veterinarian and livestock handlers
in accordance with
the Australian Food Safety requirements
.
Livestock and meat
is assessed
against grading systems such as the Meat Standards Australia grading system for eating quality, and AUS-Meat standards
.
From here the final product
is packaged
and labelled, then sent to retail outlets around Australia or exported overseas
.
If you would like some more information on grading, Meat and Livestock Australia provide some excellent material on grading systems for meat in Australia
. Check it out here