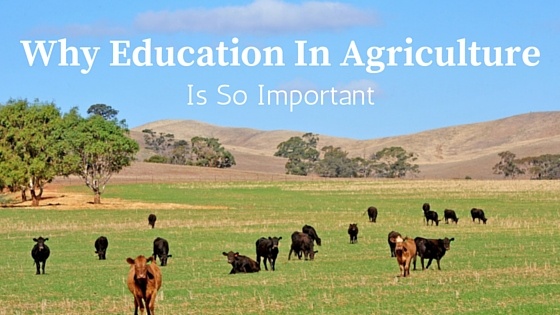 Not all Australians are blessed with the privilege of growing up on a farm. The skills and knowledge that you pick up become second nature. Country kids get to learn hands-on skills like how to properly care for a range of animals. They also learn first-hand the work that goes into preparing, growing and harvesting the crops that produce the food on our plates.
But we believe that every young Australian should have these opportunities. The first step to understanding the role that agriculture plays in everyone's lives, starts with education.
We think that all young people should get the opportunity to learn how to care and understand animals and produce. Also, that all young people should be given the chance to learn about all of the opportunities in Australian agriculture.
The Primary Industries Education Foundation Australia, working with the Australian Government, has put together some amazing educational resources that explore where food and fibre come from. These free resources are open to anyone and are broken down into age groups so that children can better understand agriculture in all its phases.
School agricultural programs, like the one at Burra Community School (BCS), provide students with the opportunity to explore what it means to raise, care for and sell livestock as well as seeding, caring for, and harvesting crops.
Princess Royal is proud to be able to assist in the BCS Ag program, which helps to provide hands-on and fun experiences for local students.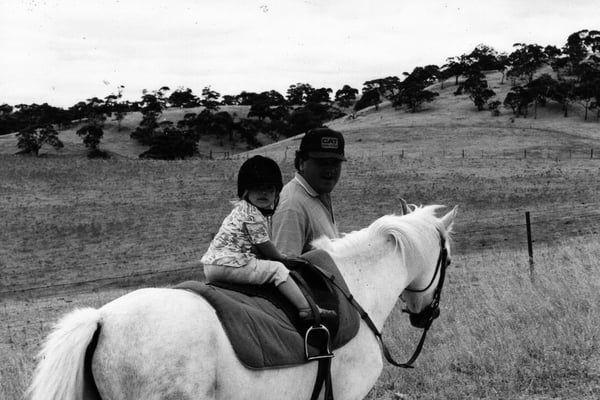 Above: Simon teaching a young Katherine how to ride.
So, How is it Going At Burra Community School?
To gain some more insight into how this year's Ag program is shaping up, we decided to check in with BCS Ag Coordinator and teacher, Brooke Crowell.
"To date, students have participated in a Ram Select Workshop where they learn about understanding Estimated Sheep Breeding Values and how to visually assess rams to suit different scenarios. Two students were lucky enough to compete in The National Merino Challenge held in Sydney early in the term."
Every year the Burra students train animals and compete against other schools at The Royal Adelaide Show. Currently, there are 34 students involved from grades 8 to 12. This year BCS has secured 10 Angora goats, 6 Merino wethers and 5 steers.
"The goats training is coming along well they are out walking and learning how to stand correctly and getting used to their leaders."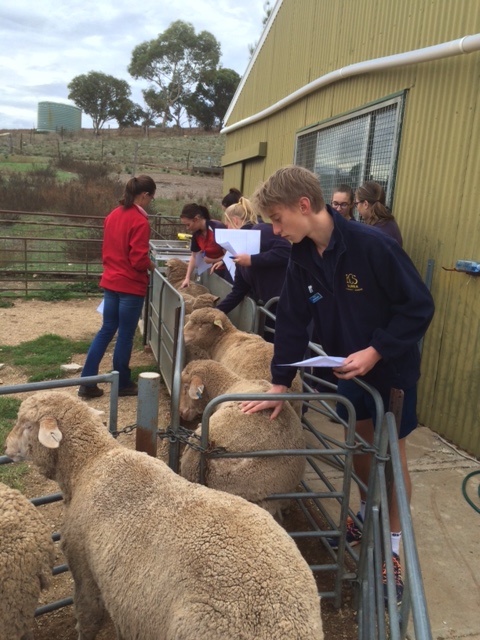 The students are currently teaching the Merino wethers how to be held and stand correctly and are on track with their weight gain. The wethers average 70kg, Brooke said, and the students are aiming to get them up to 100kg.
The year 11's at BCS are responsible for grain rations and monitoring weight gain. The students worked with Emma, the animal nutritionist from Elders in Burra, who worked through feed rationing and taught them how to condition score the wethers.
The BCS steers are also breaking in well and are gaining good weight. The students groom the steers and are just starting to teach them how to walk properly after school on Fridays. The school has a Black Angus from Princess Royal Station, a Murray Grey from Jiranda, South Devon from Gumhill, Red Poll from Moyal Park and a Simmental from Woonallee.
"We are extremely lucky to have the support from these breeders and from Princess Royal for their sponsorship towards the feed." Brooke said.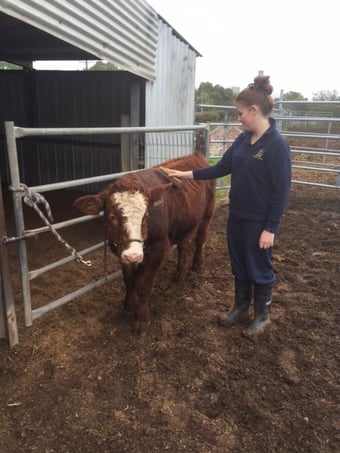 Some of the students gave their insight into the school's Ag program, their experiences and why they enjoy learning about Agriculture:
"I really enjoy studying Agriculture at BCS, I have had many opportunities through the Ag Program including working with the show team and completing units from the Certificate II in Agriculture. I have learnt many life skills that will help me in the future if I decide to do further study in ag or just work locally. I have surprised myself with the amount of confidence I have gained around livestock and I have often stepped out of my comfort zone. I have worked with the show steers for the past three years and love this experience every year, it breaks up the school day and gives you something to look forward to in term 3." – Lillian Park
"Agriculture at BCS has given me some great opportunities as I was awarded the Kellock Farming National Merino Challenge Scholarship last year and got to compete in Sydney this year. I had to do a lot of training leading up to this event but it was worth it for the skills I have learnt. I have found a passion for sheep through the program at BCS, as we get to work with them regularly. I have worked in the show team for the past two years with the Merino weathers and this is one of my highlights of my schooling. We are lucky at BCS to have a supportive community that allow us to visit their farms and learn new things." – Sean Millward
"I have done the Ag Program for 3 years and have learnt many new skills, I am excited to start my Certificate II in Agriculture this year, as we get to learn many farming operations that will help me gain more confidence as I am scared of livestock and need to work with them more to get used to them. I have joined the show steer team this year as I did goats last year but I would like the challenge of working with a bigger animal and learning new skills. Ag is one of my favourite subjects at school and I am looking forward to the show this year with my show steer." - Maggie Rayson
For us here at Princess Royal Station we see the importance of school agricultural programs like that of the Burra Community School. Which is why it is such a great pleasure to help wherever we can. It's a pivotal local asset that brings together the community, all working toward providing the next generation with the knowledge and skills they may need in their future.