As The Burra Picnic Races 2016 rapidly approaches, we thought we would take to opportunity to reflect on why community service is important to us and also reveal the reasons why we do it.
We believe that community support, as well as Community participation is very important, especially in smaller, tight-knit communities such as ours here in Burra.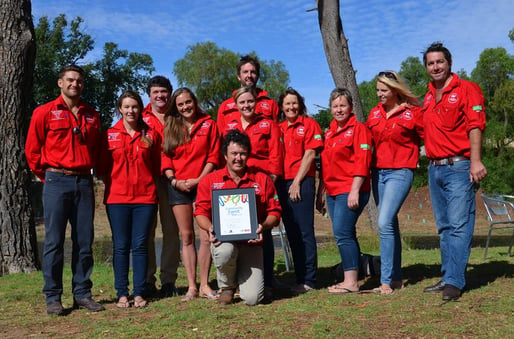 The ABS reported that people in farming families have higher volunteering rates and have a greater sense of community connectedness. (ABS, 2011) In fact, it was reported that farmers and their families were more than twice as likely to involve themselves in voluntary work.
We think that contributing to community support services and events, whether they be big or small contributions, is a fundamental part of living in rural or remote areas.
Small communities offer more support and a closer network of people for obvious reasons. The town is full of familiar faces that will benefit from the events, services and facilities that are supported. For us, it is especially important because not only do the majority of our employees live in and around Burra, but their kids go to the local school, they visit local businesses, and attend local events.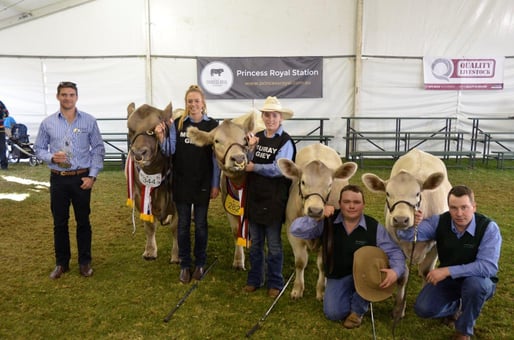 Princess Royal Supports a number of events and services, including;
The Burra Picnic Races 2015 & 2016
Princess Royal Station is proud to support the Burra Picnic Races this year as well as last year. The 2015 event was a great success, even taking out Event of The Year for the Burra award at the Australia Day awards.
Race goers travelled far and wide to help the club raise $10,000 for The Royal Flying Doctors Service and another $5000 for local community groups and organisations.
A number of our staff also sit on the board for the races including Simon, Jack and Katherine Rowe. We are hoping that The Burra Picnic Races 2016 will be just as successful and just as much fun for everyone who attends!
The Burra Burra Show
We are a delighted supporter of the local agricultural show, The Burra Burra Show, which is held early October ever year.
Since 1877 it is has been a chance to showcase Burra and the surrounding communities in many different forms, from arts and craft competitions through to horse events and shearing competitions.
The Burra Community School Agricultural Program
Princess Royal Station is proud to support the Agricultural Program of the Burra Community School in a variety of ways. These young students are the future of Agriculture in Australia, and we believe the program is a vital aspect of learning and insight into the vast industry of agriculture.
A Burra Community School Study Assistance Scholarship
The study assistance scholarship started in 2016 and is awarded to a local student who wishes to continue their education in agriculture….
The Burra Football & Netball Club
We currently support the local football and netball club BBH (Burra, Booborowie, Hallett) of the North Eastern Football and Netball Leagues.
This club is a prominent part of the local community, with many members of the Princess Royal team participating in various aspects of the club.
The Heart Foundation
Princess Royal Station is proud to support the Heart Foundation. For every sale of Bob Rowe: The Great Cattle Trader by Nigel Austin, $5 will go to the Heart Foundation. Bob had a number of heart issues and, unfortunately, these got the better of him in late 2013.
The Burra Golf Club
Princess Royal also sponsors the local golf club in Burra. The 18 hole golf course is set among established native trees, the course featuring watered greens and fairways is situated on the Northern outskirts of Burra on the Barrier Highway. We think that the Club does a great job of bringing many of the community members together.
Oodnadatta Camp Draft and Bronco Branding 2016
The Oodnadatta Racing and Horse Sports club is run entirely by volunteers from the town and nearby cattle stations which we love. Over the last 10 years, organisations such as RFDS, Cancer Research and Ronald McDonald House have shared in more than $146,000 in donations following the annual events.
Ski For Life 2016
A team from Princess Royal Station is participating in the Ski for Life Relay this year, from March 11-14th. This event will raise awareness and funds for Men's Watch, which helps promote male mental health, well-being, and works to prevent suicide.
Meals on Wheels
Meals on Wheels is an important service, that any community needs access to. It provides people and their families with support, peace of mind, and a service to people that need it.
The Blinman Gymkhana and Picnic Races, 2016
This event was held on the 15th October at the Blinman Race Track. It is a great fun-filled event for the whole family. The event includes gymkhana events, thoroughbred races and spectator novelty events for both children and adults. Over $4000 was up for grabs!
The Royal Adelaide Show
We are supporters of The Royal Adelaide Show, South Australia's largest & best-loved event. Past Events that we have supported include:
The All Breed Supreme Champion Pair, Male and Female for beef cattle in 2012, 2013, 2014, 2015 & 2016.
The World Cup Qualifier with around $8,000 worth of prize money.
The event was held during The Royal Adelaide Show in September 2012, 2013, 2014, 2015 & 2016. It is a prestigious event within the Australian equestrian community and we are proud to be involved.
We do as much as we can to support the community and it is ingrained in the way that we conduct business. Simon Rowe, the Director of Princess Royal thoroughly believes in the importance of community support and assistance to because it sustains the region and helps it to grow.