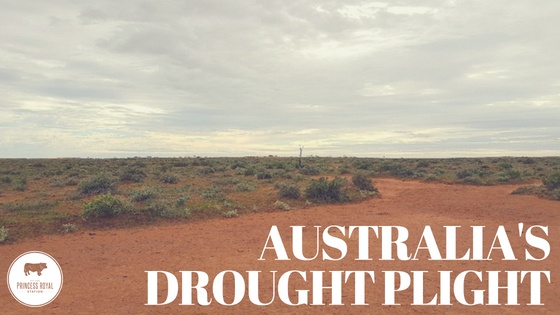 Drought. A word that all farmers, their families and rural communities dread. Drought is a prolonged period which has severe consequences ecosystems, the economy and society. Below average rainfall has resulted in a water shortage and no feed for the livestock.
This year the drought that much of Australia is experiencing has been front and centre in the media as many producers fight to sustain their properties. Right now, many Australian farming businesses are experiencing what is being referred to as one of the worst droughts in Australian history. The State and Territory governments are responsible for declaring a drought.
According to the Bureau of Meteorology, a severe drought occurs every 18 years on average. There have been droughts previously in Australia's history, some worse than others. The last drought, known to many as the

Millennium Drought

, began in late 1996 and by 2003 was recognised as the worst drought on record.
It hit mainly South Eastern Australia, affecting most of Victoria and areas in Queensland, South Australia, Tasmania and Western Australia (BOM). This period of drought lasted right up to 2010 when normal rainfall patterns returned.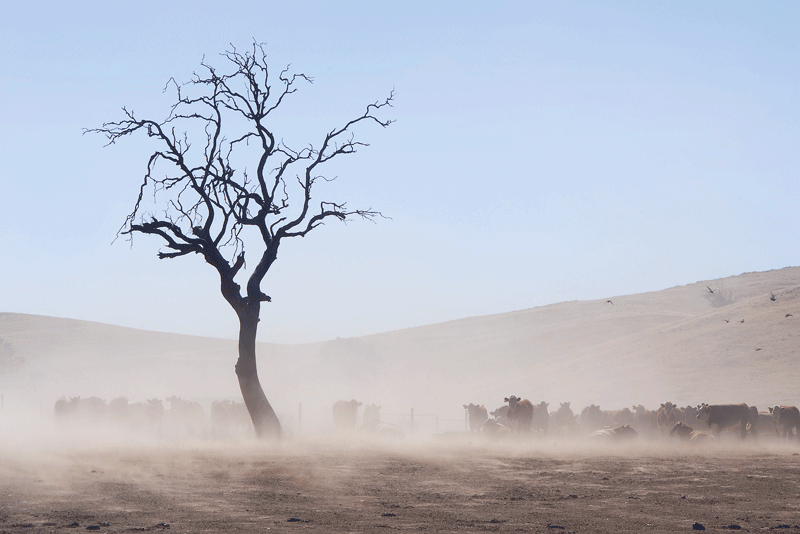 This long period of drought was devastating, it placed extreme pressure on farmers and even affected urban water supplies. Which contributed to water restrictions being put in place in many suburban areas.
This lead to several changes in Australia, such as the construction of seawater desalination plants and the changes to the management of the Murray-Darling Basin water supply The national government provided in $4.5 billion for exceptional circumstances in drought relief to affected farmers between 2001 and early 2012 (theage.com).
This is not the first drought that Australia has experienced and it will not be the last. The this drought started for some a few years ago and it has been creeping its way across Australia until now.
Currently, Australia is facing what is said to be the worst drought on record. July 2018 was the driest July on record since 2002 for most of southern Australia.
This year was also the lowest on record for northern inland and western slopes of NSW, the eastern pastoral region of SA and patches of WA (BOM). This is a crucial time of year where all farms need and want rain for pastures to grow feed and crops to germinate and grow. It is expected that this will continue with a dry hot summer to come.

The NSW state government has declared it is in 100% in drought earlier this week, with a quarter of it considered in 'intense drought'. Conditions are dire for many and farming communities are suffering, but there are parts of Australia that have been suffering for some time now, such as parts of Queensland. Much of South Australia's pastoral land is also considered to be in drought.
What does drought mean for farmers?
Drought can be very difficult for farmers, both financially and emotionally. But Australian farmers and producers are some of the most efficient in the world. To read more about how efficient and innovative Aussie producers are click
here
.
Many producers were able to prepare by destocking early, installing water systems and stockpiling grain and hay to feed their livestock through the drought. However, with the usual income strained as the drought continues and increases in costs means that times can still get really tough.

Crops are producing minimal to no yield or aren't even being sown. This means that the farmer will not be able to rely on the income they would usually receive at harvest time as well as minimal fodder produced for livestock. Also, pastures don't rejuvenate as they normally would.
Producers also have to wear higher costs during these times, such as higher fodder costs due to availability. They may also have to purchase more fodder than in a usual year to sustain their livestock.
Many farming families have to cut back on household essentials and reduce their breeding stock numbers.
What is being done?
Many Australians, organisations, groups and businesses are showing their generosity and are getting behind the Aussie farmers as best they can. The generosity of fellow Aussies is an amazing thing to witness.
This is a great opportunity to get an understanding of Australian agricultural drought history and to start conversations throughout the nation on water practices and management. Such as when we endured the
Millennium Drought, national policies and practices surrounding drought assistance, national water management, and drought preparation can be assessed and adjusted to better prepare for the future.
The National Government have also announced an emergency package of $190 million for eligible farmers, through the Farm Household Allowance scheme. Eligible Households are able to receive two payments of up to $12 000 through this scheme. Additional funding has also been announced for mental health support. It is argued amongst many that the government is not doing enough.
There are also many drought relief charities stepping in to help feed livestock and support our Aussie producers. Remember to give to many, not just a few. There are about 90,000 farmers in Australia, many of which are struggling. Donate to registered charities who will be able to reach those who need your help. Some charity initiatives include: