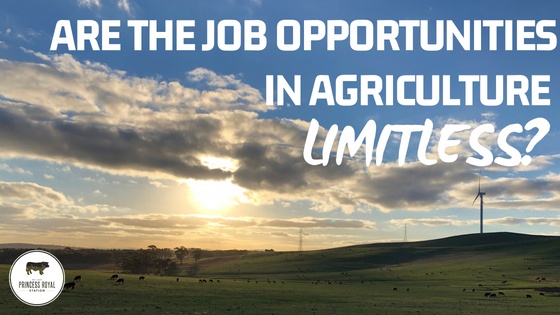 We often have students and young people interested in farming, livestock and agriculture visit us
. They seem eager to learn about the opportunities that the industry presents.
Often, they are not fully aware of the possibilities in all kinds of fields and the different ways in which they can contribute to the industry

.
Many people think of farming believe that the only real employment career path in the industry is out ploughing fields and tending to livestock
.
They
probably
don't consider how many different careers contribute to agriculture from all kinds of industries
.
Yes, there are still farms that do a lot for themselves, but they can't do it all. They
probably
don't engineer, design and construct their machinery.
They
probably
have a banker and accountant and they
probably
seek out advise from experts such as agronomists and vets
.
The fact of the matter is that Australian agriculture is becoming much more tech savvy and is evolving at a

fairly

rapid pace

. There are more jobs in the industry that many young people may have never considered.
So, we decided to put together a list of some of the jobs that contribute to many operations around the country in both the feedlot and agricultural industries
.
Agronomists:
Agronomists consult farmers on crop health, strategy and planning.
The job requires knowledge in meteorology, specialised plant and plant genetics, soil science, pesticide and herbicides as well as many other elements that can contribute to the health of a producer's crop.
Agribusiness bankers:
It takes some specialised knowledge to understand the finances of many farms and large agricultural businesses
. That is why bankers operate in a fiend called agribusiness.
Research and development:
This space is huge in agriculture right now as pressure
is put
on farmers to produce more in the most
environmentally
sustainable methods possible
.
Research and development in technology, machinery, production methods and many more present countless career opportunities.
Manufacturing:
Because after all, someone must be responsible for manufacturing all the equipment, machinery, tools and facilities that are necessary to agricultural businesses.
Industry representatives:
There are a lot of representative bodies who represent many producers' interests, such as Meat and Livestock Australia which represents Australia's red meat industry
.
These bodies present job opportunities in research, marketing, services, policy, development and many others
.
Opportunities for the development of specialised software technology designed
specifically
for producers needs in improving efficiency and the effectiveness of their operations
.
Engineers and Manufacturers:
Improving the efficiency and effectiveness of a producer's processes is important in moving the industry forward
.
Engineers, manufacturers and entrepreneurs work hard to deliver innovative machinery, technology and equipment to the industry
.
Feedlots: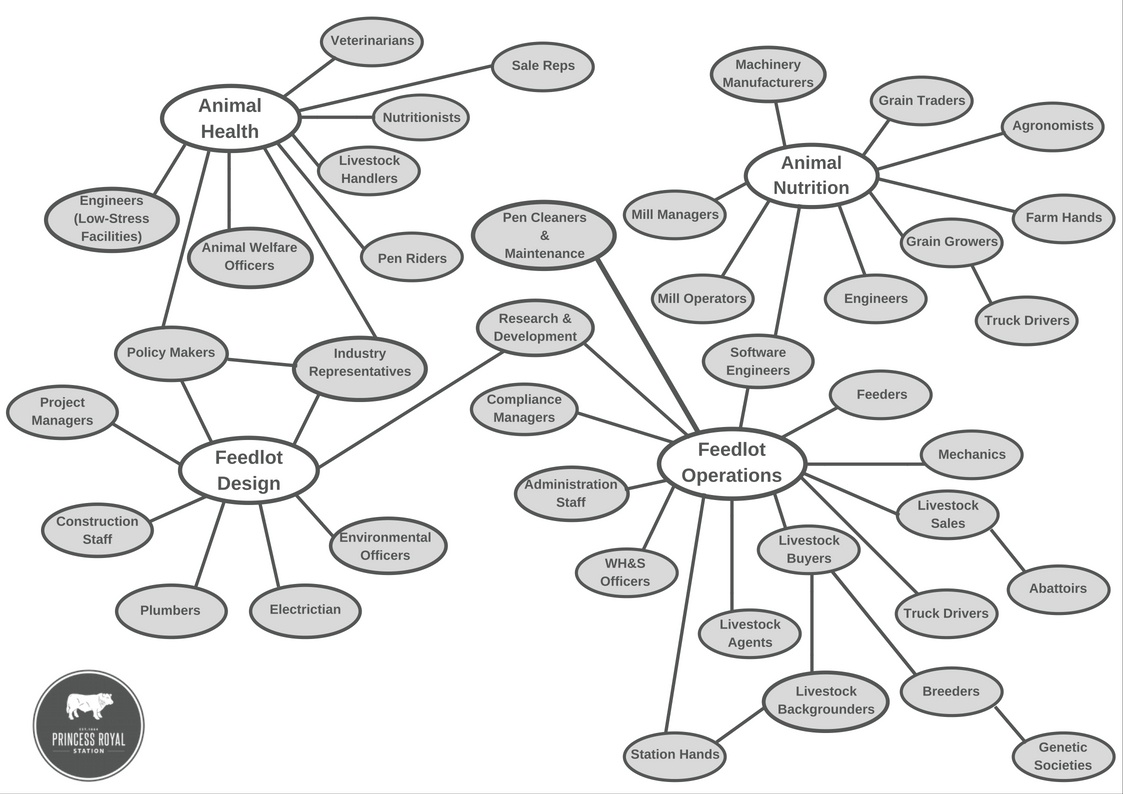 Many feedlots
employ
their own nutritionist who specialises in animal nutrition health, performance and strategy.
There is a lot of high tech machinery, feed processing and livestock handling equipment that requires specialised knowledge and design
.
Engineers are responsible for designing and manufacturing the machinery that can produce the best outcome for producers
.
Some large feedlots may even
employ
their own veterinarian or people with specialised knowledge in animal health.
Feedlots operate 24 hours and day, 7 days a week. Livestock must
be fed
every day and the machinery must
be maintained
to ensure that no animal misses out.
Pen riders and livestock handlers:
This one is obvious, but livestock handlers have a vital role in feedlots tending to livestock and managing their health as well as market requirements.
There is a lot of policy and legislation surrounding how feedlots in Australia can operate, if law and progress interests you then this may be a viable option for your future.
Livestock buyers and agents are responsible for supplying the livestock that enter the feedlot, they need to be able to
purchase
suitable livestock that suit market requirements and they must be able to trade according to market price trends and judging livestock's worth at a glance.
Livestock agents trade, buy and sell livestock on others behalf.
They also assist farmers in agronomy, wool sales, merchandise, crop supplies and land sale services
.
Many sales reps get to travel the country and sometimes the world selling products such as ear tags, machinery, vaccines and much more to feedlots and farming operations.
A mill manager handles overseeing the production, quality, costs and safety of the mill which produces feed for livestock in feedlots.
Truck drivers
Without truck drivers produce and livestock couldn't get from point a to point b.
Processors usually have a massive variety of employment opportunities not including the staff on the slaughter floor such as compliance officers, marketing and sales staff, boilermakers, strategy and operations managers, corporate services, human resources as well as many, many more
.