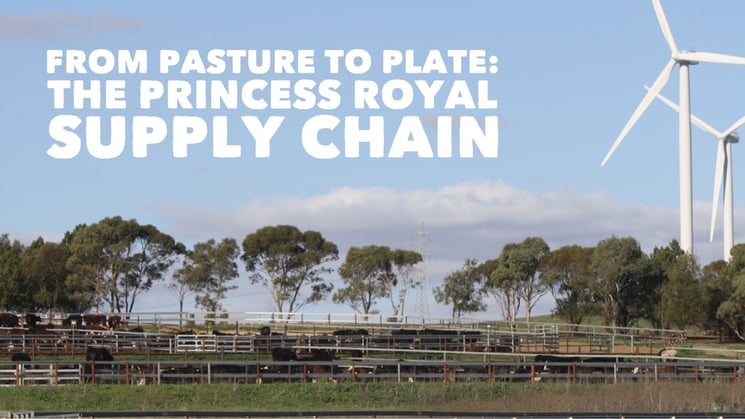 Have you ever wondered just how much effort goes into getting your delicious steak on your plate? Ever pondered just how many people contributed to your meal?
It's not something that we generally think about. But, the reality is, your steak has been on a big journey before it landed on your plate.
It all starts at the beginning:
The calf is born

The calf grows

The calf is weaned at 8 months

The weaners are grown out for a further 6 months and the heifers go back into the breeding program
As you know, the animals have to eat so…
Weeds and pests on the paddock need to be controlled

Paddocks need to be prepared

Crops have to be planted

Crops have to grow

Crops have to be harvested

Livestock and crops need to be transported

Grain needs to be processed so that our livestock can eat it

Livestock need to be sorted into either domestic or export categories

Someone needs to organise the paperwork

Cattle have to be sold

Cattle have to be transported

Abattoirs need to process the animals

Beef is transported to a retailer

You buy your steak

And finally, you eat your meal.
See, there's a lot more to it than meets the eye!
At Princess Royal, the team works hard to ensure that the end product that you receive is of the highest quality. After reading this article, you'll gain some insight into our team's role in the supply chain. And how much work goes into putting beef into your belly!
Here are the steps that we take year-round to get from farm yard to your home.
First off, it's important to note how many people are employed in the agriculture and livestock industries in Australia.
According to a study conducted by Meat and Livestock Australia (MLA), the Australian feedlot industry alone supplies an estimated 28,600 full-time equivalent jobs. Feedlots play a vital role in supplying jobs to their respective local communities, providing stability and supporting them.
After the last census from the Australian Bureau of Statistics in 2010-11, the agricultural job contribution was 192,600 people. The gross value of the total Australian agricultural production effort was worth $39.6 billion!
The Aussie feedlot industry is the backbone of our nation, and we're proud as punch to be a part of it.
But let's get on with the supply chain...

It All Starts at Birth
The Princess Royal Breeding programs include our prized Princess Royal Black European Union (EU) accredited Angus cattle, European Cross cattle and Shorthorn and Shorthorn Cross.
When they are born, the calves' progress is closely monitored by the livestock team - as well as the herds and the Black Angus stud bulls. The calves are raised in the roaming hills by their mothers until they are ready to be weaned. As they grow, the pick of the females will go back into the breeding program while the remaining steers and heifers will be transported to the feedlot. There, they will be grain fed - destined for premium EU accredited domestic and export markets.
Buying Livestock
The Princess Royal livestock buying team (Simon, Luke, and Jack) work year round combining years of experience and skill to source livestock.
The animals that they buy need to be fit and healthy, and must meet all of the National and State animal health and welfare standards. They also must ensure that the livestock meets the clients' specifications and that they have all of their National Livestock Identifacation System (NLIS) paperwork.
A NLIS tag is an electronic ear tag that tracks an animal from birth, and all of Australian cattle must have one. The tags are scanned from place to place through their Property Identification Code (PIC) numbers.
Our livestock also requires a Vendor Declaration (NVD). A Vendor Declaration is a Livestock Product Assurance (LPA) document that is required with any movement of stock. It shares the animal's history, showing that they comply with all LPA requirements. To learn more about this, head to MLA's website.
Inspecting the Livestock
On arrival at Princess Royal, the livestock are inducted and inspected to make sure that each and every animal is fit and healthy. If they are found to be sick or injured in any way, they are separated and treated straight away.
Princess Royal's Livestock Team are trained in livestock handling and management to ensure that every time the animals are handled using techniques to minimise stress on the animal and in a manner that is safe for both the animal and staff.
All of our livestock staff have a genuine interest and respect for the animals that they work with and want to ensure that they are safe and happy.
The livestock are then drafted into their respective groups and are either returned to the paddock to graze or are transferred into the feedlot facility to finish on grain for approximatly 100 days . The Livestock Team is also responsible for ensuring that the animals are treated for lice and worms, and are given a vitamin vaccination to make sure they stay healthy all year round.
You can learn more about how we care for our livestock here.
Feeding Our Livestock
To ensure that every animal has plenty to eat and the land isn't over-grazed, the herds are moved regularly. This allows time for valuable grasses to regrow, prevents erosion and helps to ensure the longevity of the land. The Livestock Team rotates the herds, ensuring the wellbeing of both the animals and the environment.
Supplying the Feed
The Princess Royal team wholly believes that our livestock need to eat the best to be the best!
We plant 27,000 acres of crops each year in order to feed our animals. Princess Royal's Cropping Division works year-round on state-of-the-art machinery to make sure that our crops are of a high quality every season.
The team works hard during the year planning, preparing, planting, growing and reaping the crops. They make sure that pests and weeds are controlled in the most environmentally friendly way possible. The entire process is closely planned and monitored to ensure health of the crops from before seeding to after harvest.
In November, the crops will be ready for harvest.
Harvest is one of the busiest times of year because the crops all need to be harvested before they pass their peak. This means that the team needs to work day and night to reap our wheat, barley, canola, peas and oats in time.
The crops then become either hay, silage or grain for feed (amongst other things).
Learn more about our feed from our Facts on Our Feed article.
Transporting Feed and Livestock
All of our livestock and fodder need to be transported, not to mention all of the other resources that Princess Royal needs.
The Princess Royal Freight Division works hard all year to move animals in the calmest and safest way, and also to comply with all of the national guidelines for heavy vehicles (NHVS).
The team clean their trucks every day after they're used to make sure that livestock are transported in clean trailers. This safeguards their health during haulage and keeps equipment and our vehicles well-maintained.
The Paperwork
There's a whole lot of paperwork that goes on behind the scenes at Princess Royal. The Administration staff work tirelessly in the Princess Royal offices (HQ) to keep everything running smoothly.
Princess Royal alone has over 10 admin personnel managing all of the paperwork for the business. This includes livestock and fodder movements, ensuring the safety of staff, that our animals comply with all of the relevant regulations and much, much more.
Selling Our Livestock
Once an animal is ready to be sold for either export or processing to another Australian business, they need to be inspected once more by the livestock handlers to make sure they are fit and healthy.
They are then loaded and transported by the Freight Division and their NVD's processed by the livestock personnel at their destination. Livestock are also inspected at arrival to make sure that they are still happy and healthy.
After Livestock Processing
Once our animals are processed, the meat is then transported to a retailer. It's there that you come along and pick it up, taking it home to transform into a beautiful meal for you and your family.
And then the whole process starts again with the breeding program!
As you can see, there's a whole lot more to it than just picking up some choice cuts from your local butcher.
Hopefully, this article has given you a good insight into the Princess Royal supply chain. We couldn't do it without our hard-working, dedicated team!