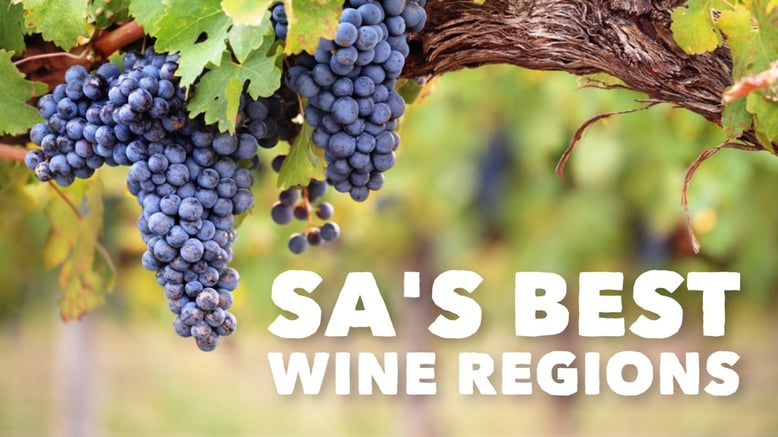 South Australia is chock-a-block full of fantastic places to go and sights to see. It's one of the great things about living and working in this beautiful area, you always know that just around the corner there'll be a gorgeous bush walk or fun activity for you to do.
One of the things we love most about living in SA is being a hop, skip and a jump away from incredible wine areas.
After all, what's better than relaxing with your friends and sipping on a glass of wine while you overlook the vineyards?
Next time you're looking for outing ideas, here are some things you can see and do around our spectacular South Aussie wine regions.
The Barossa Valley
Established soon after South Australia was founded in 1836, the Barossa Valley is famous for its award-winning wine. It's also made quite the name for itself as the gourmet capital of South Australia.
If you're looking for a delight for your tastebuds, this region will definitely deliver.
With over 170 wineries and a whopping 13,256 hectares of vineyards, you'll have your pick of the litter when it comes to wine tastings. You could settle in and explore one winery in particular, or you could make a day of it and visit four or five!
Because of the mixture of growing conditions, you can enjoy a heap of different wine varieties. Shiraz, Riesling, Cabernet Sauvignon, Mataro, Grenache, Viognier, Semillon and Tawny to name just a few.
If you want to make more of a trip out of it, the Barossa also has some spectacular hotels and villas that you can unwind in.
The Clare Valley
For those of you who love a good Riesling and a bit of adventure, the Clare Valley is the place for you.
With great food, beautiful scenery and even better wine, this region is a crowd pleaser.
Our favourite part about the Clare Valley is its proximity to our hometown, Burra. Between your tastings, you can walk or cycle down the famous Riesling Trail - a 32 km path linking charming towns, delicious restaurants and tempting wineries.
Or you could take a trip back in time and visit Burra. Check out the old Monster Mine, walking trails and other historical sites. We recommend it!
While you're exploring Clare Valley's 40+ wineries, consider taking some time to visit the exquisite Martindale Hall or Bungaree Station - two brilliant homesteads with surroundings that'd make the Queen envious.
McLaren Vale
Spanning from Hallett Cove down to Sellicks Beach, McLaren Vale is another South Aussie wine region worth a visit.
With its rolling hills and endless oceanic views, bringing a camera is a must!
The climate in McLaren Vale allows local producers to adopt the lavish flavours of Spanish and Italian wine varieties.
So, if you're a fan of Barbera, Fiano, Tempranillo or Mouvedre, prepare your taste buds for some good times!
This scenic region's main player is its heavenly Shiraz. Making up more than half of the total crops in the area, McLaren Vale Shiraz is best enjoyed in the presence of your closest friends and a tantalising cheese platter.
Burra Creek Wines
At Princess Royal Station, we love wine so much that we decided to give it a go ourselves.
Just 40 km away from Clare Valley, our vineyard has 30 acres of incredible, organic Cabernet and Shiraz grapes running along the Goyder Line of rainfall. Our crops are literally on the edge of the Aussie Outback!
We're perfectly situated for producing these tasty varieties. Our summers are long and hot, and our winters are cool and wet, giving us juicy, dark fruit.
A big part of how we ensure a premium quality product is our commitment to South Australian organic wine. We're certified by the National Standard for Organic & Bio-Dynamic Produce, as well as the Australian Quarantine Inspection Service and International Organic Accreditation Service.
We're firm believers that this dedication to all things organic allows us to give you a glass of wine that will make your eyes close in delight.
Want to learn a bit more about our wine, or just wine in general? If so, check out these blogs and pages:
Shiraz Vs. Cabernet Sauvignon: Which is Best for Beef?
If you're after a bottle or two of our best SA organic wine, you can explore and order from our range here.